Application:
Coating Pigments, Ceramic Pigment, Printing Ink Et
Zns and Barium Sulfate:
99%
Water Soluble Matter:
0.4
Transport Package:
Plastic Woven Bag
Specification:
25kg/50kg/bag
Industrial Grade Lithopone B301 For Paint And Coating Printing Ink

Lithopone B301 is a kind of lithopone whose hiding power is better than that of zinc oxide and worse than that of titanium dioxide.It has good heatresisitance and is insoluble in water.White powder, is a mixture of zinc sulfide and barium sulfate. Have high whiteness and good covering power. It is called Inorganic white pigment.
Widely used as white pigment of plastics such as polyolefin, vinyl resin, ABS resin, polystyrene, polycarbonate, nylon and polyoxymethylene (POM), also for paint and ink. it is use to colourate for rubber products , linoleum, leather, paper, enamel.

Features of lithopone:
1. Appearance: White, odorless powder
2. A white pigment produced by precipitation through filtering, heating and quenching works
3. Mostly been replaced by titanium dioxide which is more durable, but it is much cheaper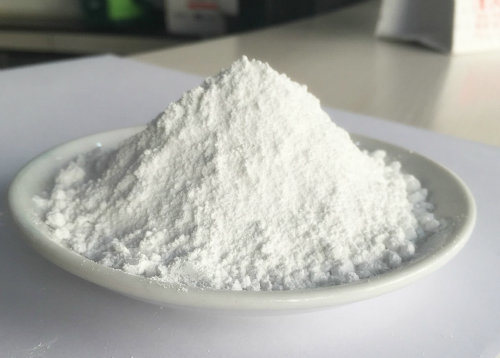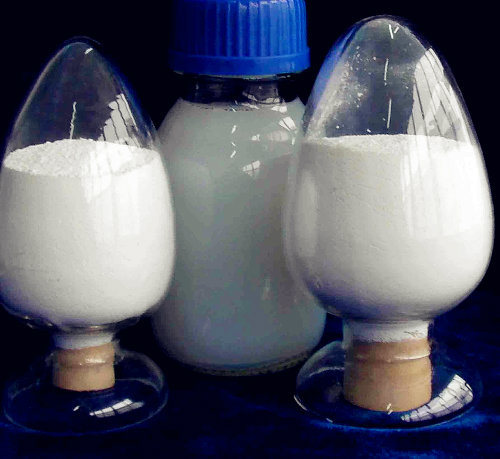 Technical Datas for lithopone:
| | |
| --- | --- |
| Product Name | Lithopone B301 |
| Total Zinc Calculated use Zinc Sulfate and Barium Sulfate % | min. 99  |
| ZNSÂ % | min. 28 |
| Zinc Oxide % | max. 0.6 |
| Sieve Residue,63um | max. 0.1 |
| Oil absorption,g/100g | max. 14 |
| Volatile at 105°C % | max. 0.3 |
| Water soluble matter % | max. 0.4 |
| PH value of aqueous suspension | 6.0-8.0 |
| Color, compared with standard sample | close |
| Tint reducing power, compared with standard sample % | min 105 |
| Hiding power/Opacity | Not less than of 5% the standard sample |
Package & delivery of lithopone:
25kg/50kg/pp bag, 25MT/20FCL.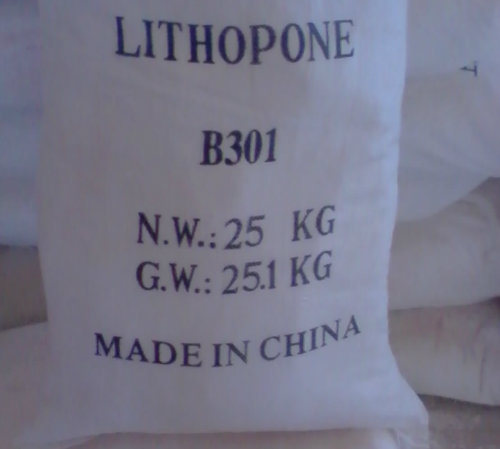 Application of lithopone:
Mainly used of coatings, printing ink, rubber, plastic, powder, profiles, paint, paper, and leather, etc.
1.  In paint industry, It is used as white pigment and glaze of porcelain.
2.  It can also be used as coating and filling in paper-making industry to help paper to be printable and opaque.
3.  In metallurgical industry, it can be used to make spongy titanium, alloy of titanium and iron and hard alloy, etc.
4.  It can also be used to make nonconductor, electric welding rod and porcelain enamel.
5.  It can also be used in synthetic fibre, plastic, rubber, printing, dying, cosmetics, medicine fillings and food additives.
6. Used as a inert pigment for paint, ink and cosmetics
7. Applications in plastic industry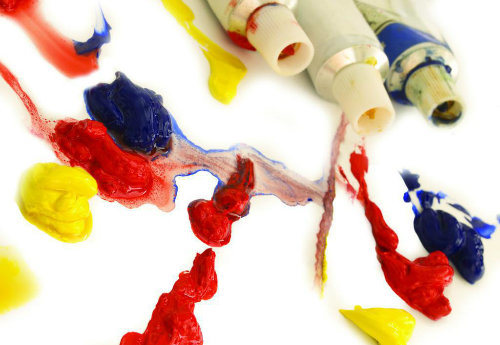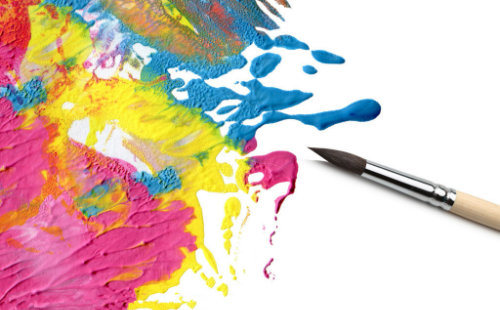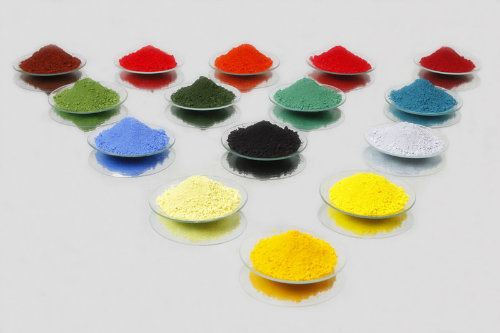 Our service:
1. All inquiries will be replied within 12 hours.
2. Dedication to quality, supply &Â service.
3. Strictly on selecting raw materials.
4. Sample is available for your evaluation &Â formulation development.
5.Faster delivery.

Contact us for lithopone inquiry:
Tel: +Â 86 371 86112765
Fax: +Â 86 371 86116272
 
We were founded in Y2015 at Singapore Industry Park, Suzhou, which is half hour`s car ride from Shanghai. In Y2019, we setup our HONGKONG office to support the growing of oversea business. We has established two business units to support different market strategy. Winch is our star product in off-road BU. We provide electric winch various from 2000lbs to 20000lbs, serve the industry for ATV/UTV, Jeep and truck. We also provide hydraulic winch from 10000lbs to 20000lbs, to serve the professional rescue industry. To ensure our winch always has best quality and best cost, we manufacture each key component by ourselves, like motor, gear box, rack, etc. Our manufacturing process covers Aluminum die-casting, punching, machining, CNC, and so on. Our quality department follows ISO 9 0 0 1 to control the process quality and the product quality. We provide our customer OEM/ODM service. The new design will be provided to support the new developed customer and protect the existing customer as well.
Our company utilized the on-line and off-line business model to enhance better customer service strategy. We have been striving to create value to our customer, supplier as well as our staff. Through us, we will live out the vision of glorifying God and benefiting people.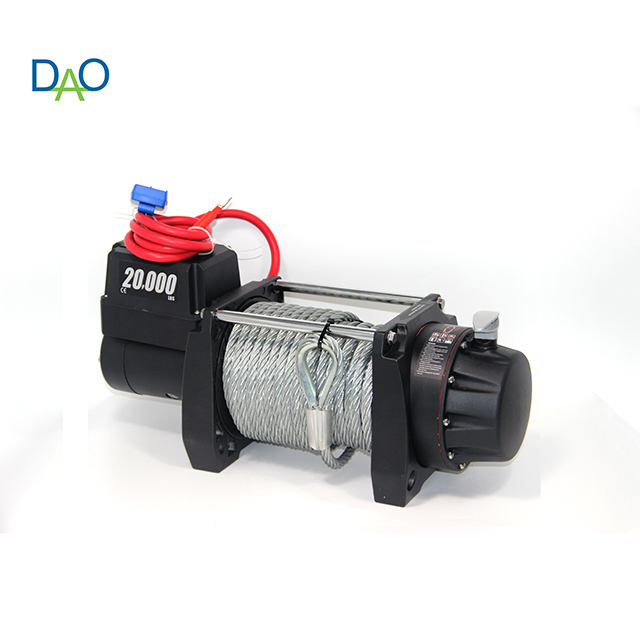 If you need to get something unstuck, lifted, or loaded, an electric winch can save a ton of back-breaking work.
The hardest part may be deciding which one you need.
Winches are commonly available with either a 12V DC or a 110V AC motor.
For fixed operations, such as a marine railway, a 110V winch works well because it can be plugged into an electrical outlet.
For portable applications or use with a vehicle as the anchor, a 12V winch is the way to go. These units can be hard-wired into a vehicle or simply hooked up to a battery.
The next consideration is capacity-what weight rating should you look for? As a general rule, take the maximum load that you expect to winch and multiply it by 1.5. The weight rating is based on the first wrap of the cable around the drum. With each layer of cable, the pull capacity actually drops, so when in doubt, go larger.
Always stay well to the side of a working winch, and always drape a heavy jacket or tarp over the line. If a cable breaks, the heavy material will help absorb the energy of the taut cable as it snaps back, and reduce the chance of injury.
If a load outweighs your winch rating, remember those high school physics lessons about pulleys and mechanical advantage. You can double the pulling capacity by [doubling" the line. Run it through a Snatch Block attached to the object you`re moving and then back to a fixed object. Twice the capacity, however, equals half the pulling speed.
20000 Lbs Winch, Powerful Winch Motor , Ce Approved Winch, auto winch
Suzhou DAO Material Technologies Co.,Ltd , https://www.dao-compass.com